bernette Overlocker/Serger
Sew, cut, and neaten in a single operation.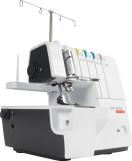 bernette Funlock 42
The low-cost 4-thread and 3 needle coverstitch machine – for professional hems. The bernette Funlock 42 is a coverstitch machine featuring a total of 3 different coverstitches with a width of 2.8 and 5.6 mm and a chain stitch. More details
bernette Funlock 44
The bernette Funlock 44 is a low-cost overlocker for beginners including 15 stitches. The Funlock 44 offers numerous practical functions giving you a straightfoward introduction to sewing.
More details
bernette Funlock 48
The bernette 48 is the top model of the Funlock series and is a combination of an overlocker and a coverstitch machine. It has a total of 23 stitches: 15 overlock stitches, 3 coverstitches, 4 combo stitches and 1 chain stitch.
More details